Munnar is one of the most popular tourist destinations in Kerala. Finding affordable accommodation near the  campus has always been quite challenging. In view of this, the management of Munnar Catering College decided to set up a 100% residential campus and provide accommodation for both students and faculty inside the campus itself. 
For students there are 3 hostel complexes inside the campus. A Women's hostel, a Men's hostel and a new modern International hostel with the latest amenities, facilities and fixtures which was opened in 2021.
International Hostel
International Hostel
Opened in 2021, the International Hostel is a brand new hostel complex with the most modern amenities and fixtures on par with international facilities. There is a private entrance and lobby with a separate powder room and shower facilities for parents and guests visiting the students.
There are 34 double rooms available. The rooms are made and designed in the style of hotel suite rooms and are fully furnished. Each room will have the following amenities:
Two single beds with orthopedic mattresses

Spacious attached bathroom with modern fixtures

TV

Fridge

Hot water kettle

Coffee table with 2 coffee chairs

Clothes cupboard

Separate study area with 2 tables, 2 chairs and storage cupboards

Mirror

Ample power outlets
In addition to these, the International hostel also offers its residents 'complimentary laundry facilities'. Clothes can be dropped off in the fully equipped laundry room to be washed, dried and ironed.
The Men's hostel is our biggest hostel complex with a total of 145 rooms available.
The room configuration is four students per room. Each room has four study desks and four chairs and cupboards for clothes.
Each floor has common bathrooms, shower rooms with hot water and hand wash areas. Each floor also has hot and cold filtered drinking water.
In addition to this, the hostel building has a prayer room, a laundry washing and drying area, a garden seating area outside the building and 3 dedicated wardens.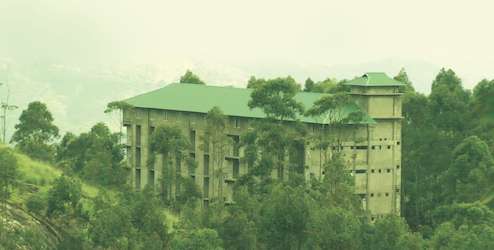 Women's Hostel
Women's Hostel
The Women's hostel is a separate building with a private entrance, garden and parking and was renovated in 2021.
There are 2 categories of rooms available in the hostel : 
The higher category rooms – are called 'Pool Rooms' and have amenities like the International hostel rooms. There are 9 Pool Rooms available – 3 Single rooms and 6 Double rooms.
The economic category rooms are called 'Pool View Rooms'. There are 18 Pool View Rooms available.
The hostel also has several private facilities for the women including a private swimming pool and gym. 
Pool Rooms (Higher Category Rooms)
Amenities of Single Pool Rooms :
One single bed with orthopedic mattress

Spacious attached bathroom with modern fixtures

TV

Fridge

Hot water kettle

Clothes cupboard

Study desk and chair

Dressing unit with mirror

Ample power outlets
Amenities of Double Pool Rooms :
Two single beds with orthopedic mattresses

Spacious attached bathroom with modern fixtures

Hot water kettle

Clothes cupboard

Two study desks and two chairs

Dressing unit with mirror

Ample power outlets
Pool View Rooms (Economic Category Rooms)
Amenities of Pool View Rooms :
Four students per room

Clothes cupboards

Four study desks and four chairs

Common bathrooms

Common shower rooms with hot water

Common hand wash area
The Women's hostel building has the following additional amenities:
Private lobby

Private indoor swimming pool

Gym with brand new equipment 

Common room

Separate toilet block (in additional to the common toilets inside the building) with bathrooms, shower rooms with hot water and hand wash areas 

Laundry washing and drying area

Dedicated women's hostel warden